The Friendship Force in New Zealand
The map below shows the location of the Friendship Force clubs in New Zealand.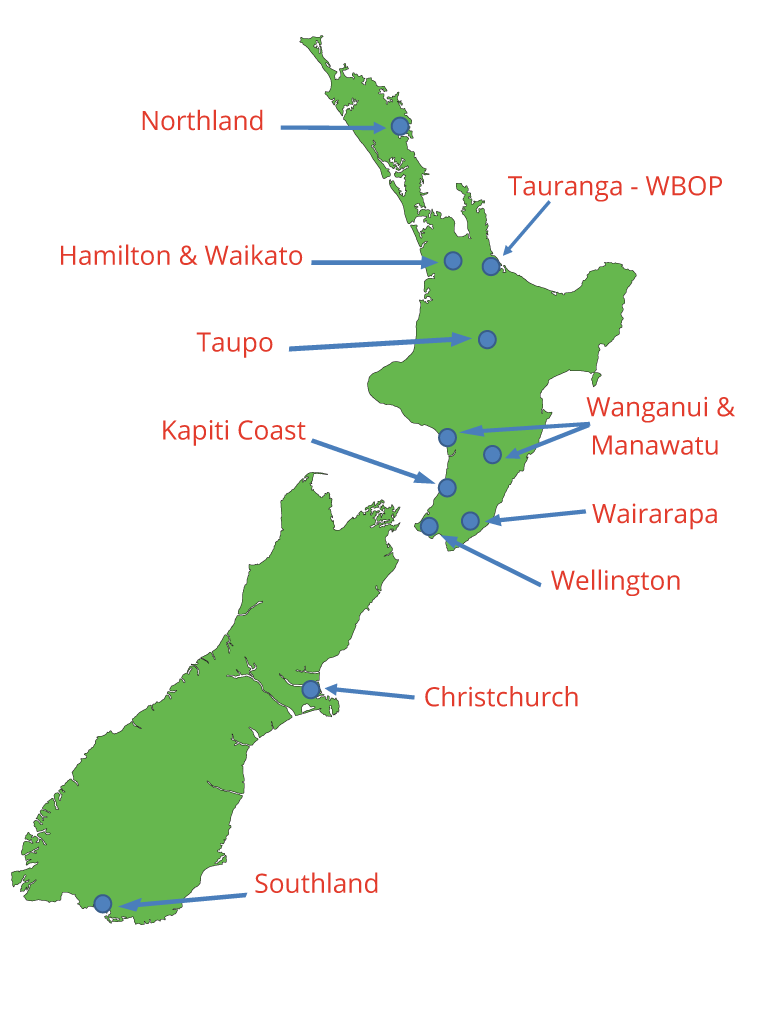 History of Friendship Force in New Zealand
First Steps
In January 1983, International President and Friendship Force International (FFI) Founder Wayne Smith visited New Zealand to meet with Gerald S Weekes of Wanganui, Maurice Tilley of Napier and Chris Hamilton of Hamilton with the aim of introducing Friendship Force to four centres by hosting journeys during 1983.
In March of that year, Beverlie Reilman, FFI Head Office Director, visited to conduct orientation sessions in the four centres.
First Journeys & Clubs Establishment
Then followed inbound journeys to
Napier – In April, 62 Ambassadors from Sante Fe / Albuquerque, USA – ED Maurice Tilley.
Wairarapa – In May, 71 Ambassadors from Lower Columbia SW Washington, USA – ED Graham Dearsley.
Wanganui – In July, 79 Ambassadors from Western Kentucky & Minneapolis, USA – ED Gerald & Helen Weekes.
Hamilton – In August, 80 Ambassadors from Durham, North Carolina, USA – ED Chris Hamilton.
Following these journeys, clubs were formed at
Wanganui in August 1983 President ValMain
Napier in September 1983 President Maurice Tilley
Hamilton (now Hamilton & Waikato) in October 1983 President Chris Hamilton
Wairarapa in February 1984 President Rata Bruce and Shirley Andrews.
In 1984, these four clubs each embarked on the first outbound journeys from NZ
Hamilton in March - 27 Ambassadors to Orlando, Florida and Raleigh, North Carolina, USA under ED Merlene Cordes
Wanganui in April - 30 Ambassadors to Owensboro, Kentucky and Minneapolis – Twin Cities, Minnesota and Denver, Colorado, USA under ED Gerald & Helen Weekes.
Napier in May - 31 Ambassadors to Oklahoma and Albuquerque, New Mexico, USA under ED Maurice Tilley.
Wairarapa in July - 26 Ambassadors to Lincoln, Nebraska, and Washington State, USA under ED Shirley Andrews.
Gerald Weekes
In 1984, Gerald Weekes was appointed New Zealand Director, and in 1985, this was changed to FFI Regional Representative for the South Pacific with support from wife Helen Weekes.
Until his retirement due to ill health in 1999, Gerald nurtured the establishment and consolidation of 23 clubs in New Zealand and 23 clubs in Australia.
Gerald introduced two Honour Award Communication trophies in 1986, 'The Trophy Man' for Speaking Achievements and 'The Winged Woman' for Editorial Content.
He also introduced the 'Overlander Trophy' in 1993 for the most club members attending Conference (excluding the host club).
At the annual International Conference in Einhoven, Holland, Gerald was honoured by the introduction of the 'The Gerald Weekes International Club of the Year Award'.
He was further honoured in 1999 at the 15th NZ Conference in South Taranaki by being presented with a framed and signed citation from USA former President Jimmy & Rosalind Carter, both of whom were deeply involved with the organisation at this stage.
Further Club Establishment
1984 – Christchurch & New Plymouth
1985 – Nelson, Wellington & Whangarei
1986 – Gisborne, Howick (Auckland), Kapiti Coast, Manawatu, South Taranaki & Taupo.
1987 – Marlborough
1989 – Western Bay of Plenty (now Tauranga-WBOP) & Horowhenua
1990 – Thames – Coromandel, Western Waikato, & Rotorua
1991 – Paeroa-Hauraki District
1992 – Auckland-North Shore
2006 – Otago
2008 – Southland
Since their establishment, some of the clubs have either closed or been amalgamated with nearby clubs. Others have had name changes, and as at 2021, there are 15 New Zealand clubs.
Other Significant Events
In 1985, the First NZ Conference was held at Wanganui, and a full list of subsequent hosts is included on the Conference page.
In 1988, a NZ International Festival was held in Rotorua which was attended by FFI President Wayne Smith, and was significant in that Wayne was recalled early from the event to attend an International Summit meeting in Moscow.
In 1994, a Rolling through New Zealand Festival saw 142 Ambassadors travel by train from Auckland to Christchurch for hosting, then they moved on to Queenstown.
In 1999, on the retirement of Gerald Weekes, his daughter Tanya Chaplow was appointed NZ Regional Office Coordinator.
In 2000, the NZ Conference hosted by Gisborne was attended by retiring International President & Founder Wayne Smith and FFI Executive Director George Brown.
Friendship Force International Officers
In 1987, NZ was honoured when Marion Ruscoe (Wanganui) was appointed to the Friendship Force International Board of Directors, the first from this region to be so appointed.
In 2009, Alan Milne (Kapiti Coast & Taupo) was appointed to the FFI Board of Directors for a term of four years, and for the last two years of this term, he was honoured with the prestigious position of Chairman. He continues to be involved on advisory committees to the organisation.
New Zealand Officers
Field Representatives
In 1998, the first Field Representative initiative was introduced into New Zealand, and the first six Field Reps appointed were Barbara Callan (Whangarei), Diane Hancock (South Taranaki), June Kenworthy (Christchurch), Val Main (Wanganui), Athol McLachlan (Western Waikato) and Cindy Switzer (Wellington). These people met in Wanganui and agreed to stand down at two year intervals. They were mentored by Bill Hagan of FFI.
In 2002, the First Coordinator appointment was made with June Kenworthy taking this position. Applications were called for new Field Reps with considerably increased voluntary responsibilities.
In 2003, three new Field Reps were appointed Keith Clark (Manawatu), Doug Dean (Marlborough) and Bruce Jessop (Howick). They held their first meeting in August 2003 at the home of Bruce Jessop with David Evans from Australia present. It was decided that there would be four Field Reps and the term of the positions was set at four years with one standing down and being replaced each year.
In 2004, Doug Dean (Marlborough) was appointed Field Rep Coordinator.
In 2008, Norma Hampton (Christchurch) was appointed Field Rep Coordinator.
In 2012, Colin Ridge (Taupo) was appointed Field Rep Coordinator.
In 2019, Debbie Lattey (Kapiti Coast) was appointed Field Rep Coordinator.
Field Reps appointed since 2004 have been:
2005 – Ken Tarrant (South Taranaki)
2006 – Rob Joyes (Taupo)
2007 – Yvonne Elliot (Horowhenua)
2008 – Norma Hampton (Christchurch)
2009 – Allan Brickland (Hamilton & Western Waikato)
2010 – Audrey McLaughlin (Western Bay of Plenty)
2011 – Robert Campbell (Manawatu)
2012 – Roz Bridges (Marlborough)
2013 – Colin Ridge (Taupo)
2014 – Ross Stevens (Napier)
2015 – Debbie Lattey (Kapiti Coast)
2016 – Heather Ponder (Christchurch)
2017 - Gwendolyn Needham (Whangarei)
2018 - Graham Wigley (Wellington)
2021 - Jan Harrison (Christchurch)
Auxiliary Officers
Webmaster
2001 – Graham Adam (Wairarapa)
2008 – Eric Scott (Christchurch)
2016 - Debbie Lattey (Kapiti Coast)
Financial Services Officer
2008 – Doug Dean (Marlborough)
2012 – Robert Cooper (Otago & Marlborough)
2019 - Jo Tinworth (Taupo)
South Pacific eFlyer Coordinator
2008 – Colin Ridge (Taupo)
(Pre 2002 information taken from a document compiled by Tanya Chaplow who was FFI Coordinating Officer at the time. Post 2002 information supplied by several people)